Eine Wand, deren Oberfläche aus zahllosen LED-Lämpchen zusammengesetzt ist, die auf den Kontakt mit Wasser reagieren. Um die Lämpchen zum Leuchten zu bringen, reicht ein feiner Wasserstrahl aus einer Sprühdose, ein Wasserzerstäuber und ein nasser Finger aus. Diese Methode ist ein Konzept vom Digitalarti Artlab Team um den Künstler Antonin Fourneau und dem Graffiti Kollektiv Painthouse welches über viele Wochen hinweg entwickelt wurde. Ein paar Tage lang durften die Bewohner der französischen Stadt Poitiers zusammen mit dem Künstler ihre ganz eigenen Erfahrungen mit der "Water Light Graffiti"- Wand machen. Schönes Konzept, reingeschaut in die Prototype Phase und das Video der Präsentation in Frankreich nach dem Jump!

Water Light Graffiti – Prototype Phase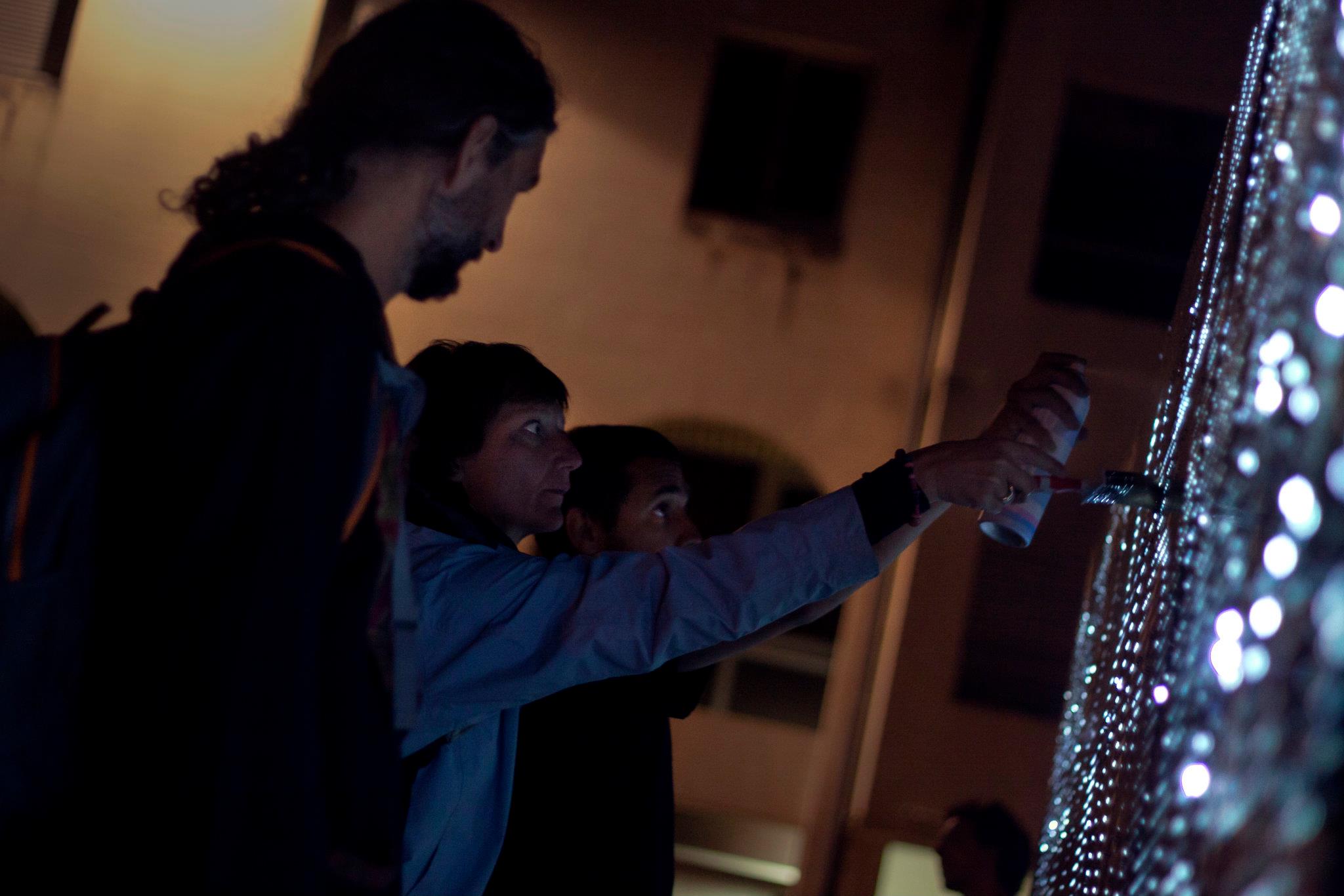 Water Light Graffiti – Präsentation in Poitiers (Frankreich)


The "Water Light Graffiti" is a surface made of thousands of LED illuminated by the contact of water. You can use a paintbrush, a water atomizer, your fingers or anything damp to sketch a brightness message or just to draw. Water Light Graffiti is a wall for ephemeral messages in the urban space without deterioration. A wall to communicate and share magically in the city.
Water Light Graffiti is a project of Antonin Fourneau (atocorp.free.fr/)
Engineer : Jordan McRae
Design Structure : Guillaume Stagnaro
Graffiti performance : Collectif Painthouse
Assistant team: Clement Ducerf and all the ArtLab volunteers
ArtLab Manager: Jason Cook
Production Digitalarti (digitalarti.com)
Filming: Sarah Taurinya & Quentin Chevrier
Music: Jankenpopp (soundcloud.com/jankenpopp)
Editing and titles: Formidable Studio and Maïa Bompoutou
Support : Ville de Poitiers and Centre Culturel Saint Exupéry